Books Toys & Entertainment Quiz Answers – Win Rs.2000 for free
Books Toys & Entertainment Quiz is here. The contest consists of 5 Questions. The Winners will get Rs.2000 Amazon pay balance for free. Participate in the Quiz to win the prize. The answers to the questions of the contest are given below, Play and win "WISH YOU A GOOD LUCK".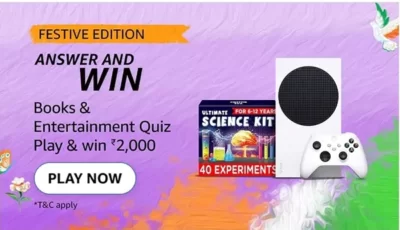 Books Toys & Entertainment Quiz Answers :
Question 1. What is the name of the recently launched book by "Ankur Warikoo" that is now available on Amazon?
Answer – (D) Do Epic Shit
Question 2. Which is the latest Star Wars character to have a TV series on its name? The character also wields a prominent helmet?
Answer – (A) Boba Fett
Question 3. Which prominent sports celebrity has the brand Hyperice partnered with in India?
Answer – (B) Virat Kohli
Question 4. Which is the latest version of OS launched by Microsoft?
Answer – (B) Windows 11
Question 5. What is the maximum discount one can avail while purchasing Books, Toys, Video Games, Software, or Personal care appliances during the Great Republic Day Sale?
Answer – (D) 70%
Contest Timing :
This Contest will commence on 18th January 2021 from 12:00:01 A.M. (IST) to 31st January 2022 at 11:59:59 p.m. (IST).
Number of Winners: 50
How To Enter?
Open Amazon.in Application.
Click on the mic icon on the right side of the search bar and ask Alexa "take me to funzone" or "open funzone" or "go to funzone". OR
Navigate by clicking on three bars in the top left corner then go to "Programs and Features" > "FunZone". OR
Search Funzone on the search bar and visit the first result.
To Download Amazon.in App Click Here
WINNER ANNOUNCEMENT :
After Amazon India confirms the winner/s, They will contact the winners individually through email/SMS. They will also post the winners names on the Result page by 07th February 2022.
Previous Quizzes :