Finish Quiz Answers – Win Rs.5000 for free
Finish Quiz is here. The contest consists of 6 Questions. The Winners will get Rs.5000 Amazon pay balance for free. Participate in the Quiz to win the prize. The answers to the questions of the contest are given below, Play and win "WISH YOU A GOOD LUCK".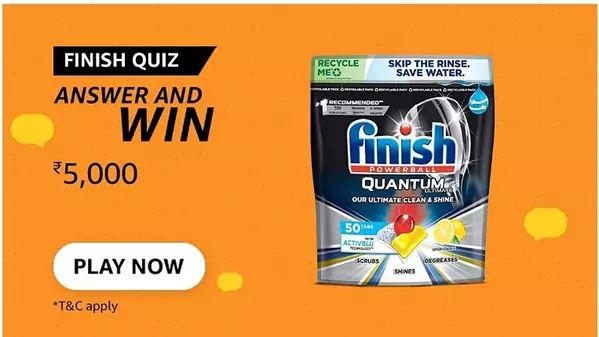 Finish Quiz Answers :
Question 1. The Finish Quantum Ultimate dishwasher tablet provides all in one benefit which includes which of the following?
Answer – (D) All of these
Question 2. Finish Quantum Ultimate has ultra ______ formulation. Fill in the blanks
Answer – (C) Degreasing
Question 3. The Finish Quantum Ultimate has biodegradable packaging and has _____ soluble film that dissolves completely faster. Fill in the blanks
Answer – (D) 100%
Question 4. The Finish Quantum Ultimate works even in hard water conditions.
Answer – (A) TRUE
Question 5. Each tablet of Finish Quantum Ultimate has how many chambers?
Answer – (C) 3
Question 6. Which of these is a feature of the Finish Quantum Ultimate?
Answer – (D) All of these
Contest Timing :
This Contest will commence on 18th January 2021 from 12:00:01 A.M. (IST) to 08th February 2022 at 11:59:59 p.m. (IST).
Number of Winners: 20
How To Enter?
Open Amazon.in Application.
Click on the mic icon on the right side of the search bar and ask Alexa "take me to funzone" or "open funzone" or "go to funzone". OR
Navigate by clicking on three bars in the top left corner then go to "Programs and Features" > "FunZone". OR
Search Funzone on the search bar and visit the first result.
To Download Amazon.in App Click Here
WINNER ANNOUNCEMENT :
After Amazon India confirms the winner/s, They will contact the winners individually through email/SMS. They will also post the winners names on the Result page by 28th February 2022.
Previous Quizzes :