OnePlus Nord CE 2 5G Quiz Answers – Win A OnePlus Nord CE 2 5G for Free
OnePlus Nord CE 2 5G Quiz is here. The contest consists of 5 Questions. The Winners will get A OnePlus Nord CE 2 5G. Participate in the Quiz to win the prize. The answers to the questions of the contest are given below, Play and win "WISH YOU A GOOD LUCK".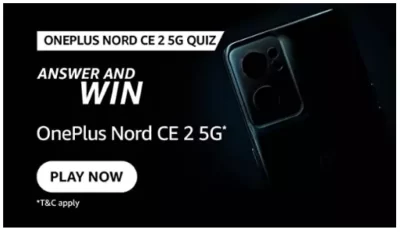 OnePlus Nord CE 2 5G Quiz Answers :
Question 1: Which 5G-ready chipset powers the OnePlus Nord CE 2 5G?
Answer: (B) MediaTek Dimensity 900
Question 2: With OnePlus Nord CE 2 5G you always get____
Answer: (C) A little more than you'd expect.
Question 3: How many OnePlus Nord smartphones have been launched in India till today?
Answer: (B) 3
Question 4:What is OnePlus Nord CE 2 5G's fast charge technology called?
Answer: (A) SuperVOOC
Question 5: OnePlus Nord smartphones feature a ____ Hz Fluid AMOLED Display
Answer: (D) 90
Contest Timing :
This Contest will commence on 10th February 2022 from 12:30:00 PM (IST) to 22nd February 2022 at 11:59:59 PM (IST).
Number of Winners: 04
How To Enter?
Open Amazon.in Application.
Click on the mic icon on the right side of the search bar and ask Alexa "take me to funzone" or "open funzone" or "go to funzone". OR
Navigate by clicking on three bars in the top left corner then go to "Programs and Features" > "FunZone". OR
Search Funzone on the search bar and visit the first result.
To Download Amazon.in App Click Here
WINNER ANNOUNCEMENT :
After Amazon India confirms the winner/s, They will contact the winners individually through email/SMS. They will also post the winners names on the Result page by 15th April 2022.