Want to buy an Electric Car: Here are the currently available options
We have been hearing everyone saying 'future is electric' and slowly we are seeing traditional car manufacturers trying hard to bring that future close as soon as possible, but as a first-mover, there is always consequences. In the case of India, it was Mahindra & Mahindra with their first all-electric E2o. It was launched in Oct 2016 and it has been a bumpy road for E2o since then.
But we don't have to worry about those bumps anymore, because since then the Ev market has come way far. In the last 05 years, there has been a significant improvement in the whole electric mobility sector and it's moving faster every day. So, here is a list of electric cars which are currently available in India, which you can buy whenever you want to.
1. Mahindra eVerito
This is M&M's second electric car which comes in two variants with minor features differences. The price starts at Rs. 10.5 Lakhs and has an average range of 140 KM with a fully charged battery of 18.55 kWh. The motor has a torque of 91 Nm and can give a maximum power output of 31 kW. The battery takes approx. 8 Hr 30 Min when charged using an AC Home outlet and 1 Hr 30 Min from 0% to 100% while using a DC fast charger. The eVerito could be a good option to consider if you are looking for an electric car for your daily commute and your average travel range is 100 KM. Although it can be a good choice for Taxi as well.
2. TATA Tigor EV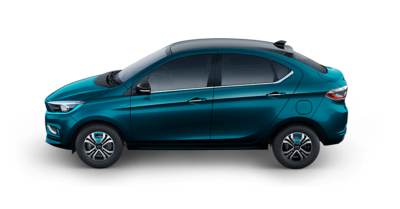 Launched at the end of 2021 Tigor EV is TATA's second electric car after the successful launch of the Nexon EV. The car is claimed to have a range of 306 KM and the battery takes 8 to 9 hours on a standard AC wall outlet and 1.5 to 2 hours to reach 0 to 100% on a DC high voltage charging outlet. The lowest price of Tigor EV is Rs.11.99 Lakhs and it goes all the way up to 13.1 Lakhs for the topmost model. This also has a commercial variant and that has a slightly lower range than the non-commercial variants. The car also holds a 4 star NCAP safety rating. If your daily commute range is 30 to 40 KM then once charged the battery will last for a week.
3. TATA Nexon EV
The Nexon EV is TATA's first electric car and it is a great success as well. So far tata has sold more than 60k units and it is planning to launch a new successor too. But to get a hand on it you may need to wait 2+ years considering the current scenario of the demand. The Nexon EV carries the same spaces as its petrol variant like a 5 Star NCAP rating and it has all the advantages of an SUV. It can produce a pick power is 95kW and 245 Nm torque which is drawn from a 30.2 kWh battery pack. Charging the Nexon EV is the same as Tigor and both take the same amount of time. The prices start from Rs. 14.24 Lakhs and goes up to Rs. 16.85 Lakhs.
4. MG ZS EV
Morris Garages launched its first all-electric vehicle in 2021 named ZS EV, It is a direct competitor of TATA Nexon EV and Hyundai Kona electric. The ZS EV price starts from Rs.21.5 Lakhs and goes up to Rs.24.7 Lakhs. It is powered by a 44.5kWh battery and has a max power output of 105kW with 353Nm of torque. MG claims a range of 419 KM with a fully charged battery. The battery takes almost 8 hours to fully charge with a home charging station and 2 hours with a DC fast charger. It is a 5 seater mini SUV which can be a good family car.
5. Hyundai Kona Electric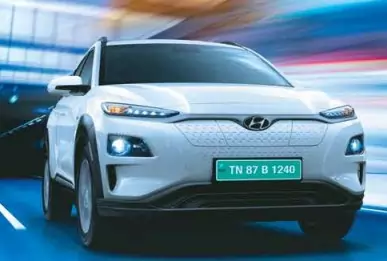 Hyundai Kona Electric is the most compact of all EVs on this list, It is priced at Rs. 23.8 Lakhs which comes in the higher mid-range vehicles. The Kona has a massive range of 452 KM when fully charged. It comes with a motor of power having 100kW and can produce 395Nm of torque. The 39.2 kWh Battery takes almost 6 hr and 30 minutes to charge from a Home charger and 1 & half hours through a DC fast charger. It is Hyundai's first electric car and now they are planning to launch their new Ioniq 5 in India by the end of 2022.
6. Jaguar I-pace
Launched in March 2021, the I-Pace is Jaguar's first electric car and this comes in the luxury range. The price starts at Rs. 1.05 Cr and can go up to Rs. 1.12 Cr. It is a compact SUV based on JLR's mini SUV lineup. It has a battery of 90 kWh which is the highest on this list and has a motor of 294kW power and 696 Nm torque. From the looks perspective, it is a fantastic looking car like from the future and sporty. It is 4 seater So, can a trip along with college friends in I-Pace is like a dream come true.
7. Mercedes Benz EQC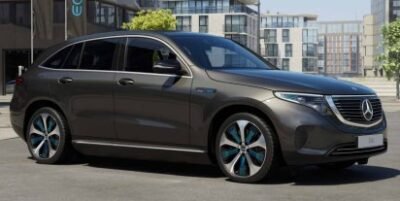 EQC is a luxury SUV from Mercedes and it has been a quite success outside India. In India, it was launched with a price tag of Rs.1.06 Cr in 2020. The car from the front looks really appealing and from the rear, the long tail lamps give a futuristic look to it. It is powered by a 300kW motor and can produce a torque of massive 760Nm. To run the car a battery 76.4kWh is attached to its floor which takes a significant space and requires a cautious driver while driving through Indian roads due to low ground clearance. EQC can go up to 414KM with a fully charged battery and 8 hours to recharge it from 0 to 100%.
8. Audi e-Tron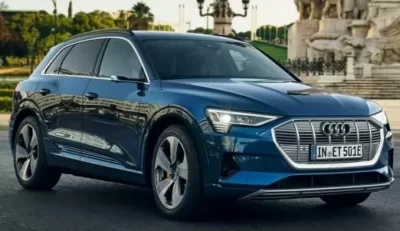 Audi launched e-Tron in India with a price tag of Rs. 1.14Cr which goes up to Rs. 1.33 Cr. The e-Tron comes in two variants as e-Tron and e-Tron Sportsback, not much of a difference in specifications and features. The e-Tron comes with a motor that produces 300kW of power and 664Nm of torque. To power that giant motor a battery pack of 95kWh is attached to the floor. Audi claims a range of 484 KM which is highest in this list on a single charge and the battery can take up to 9 hours to fully charge with an AC home fast charger and about 2 hours with a Fast DC charger.