Flipkart Fake OR Not Answers 21 December – Win Super Coins and Gift vouchers
Flipkart Fake Or Not answers today 21 December 2021 Quiz Answers, Play Fake or Not in Flipkart App and Win Rs.1000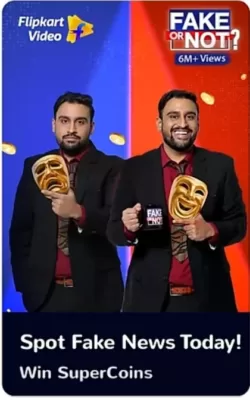 Answers are updated at 12:05 AM every day.
[su_heading size="15″ align="center"]Add this page as bookmark to receive faster updates.
[su_box title="Short Answers"](A) NOT FAKE
(B) FAKE
(C) FAKE
[/su_box]
FLIPKART FAKE OR NOT ANSWERS :
Question 1: Fevicol was invented in India.
Answer – NOT FAKE
Question 2: The first item song in Bollywod was 'Piya tu ab toh aaja'.
Answer – FAKE
Question 3: A Flamingo has nostrils at the end of its beak.
Answer – FAKE
Also read:
Flipkart Fake OR Not Answers 21 December – Win Super Coins and Gift vouchers
Flipkart Daam Sahi Hain Answers 21 December – Win SuperCoins and Gift Vouchers
Sirf Ek Minute Answers 21 December – Win SuperCoins and Gift Vouchers
Flipkart Khel Paheliyon Ka Answers | 21 December Season 02 Episode 38 September – Win SuperCoins
Contest Timing :
This Contest will commence on 21 December 2021 from 12:00:00 AM (IST) to 21 December 2021 at 11:59:59 PM (IST).
How To Enter ?
Open Flipkart Application.
Clicking on "Game Zone" Button on bottom right corner and scroll down to the Fake or Not Banner. Click on the banner and start the Video to Participate in the quiz.
To Download Flipkart App Click Here
WINNER ANNOUNCEMENT :
First 10 Winners Will get Rs.1000
Remaining Winners will get 5 and 1 Super Coins each.
Also Read :