APSC Plant Manager recruitment 2022: Rs.1.2 Lacs – B.tech. can Apply Now
APSC Plant Manager recruitment 2022, Plant Manager recruitment 2022, B.Tech. recruitment 2022, APSC recruitment 2022, Dairy Extension Officer recruitment 2022, ADO Recruitment 2022.
Plant Manager / Asstt. Distribution Officer under the Dairy Development Department, Assam posts Details, how to apply, Important dates, Educational qualifications, and salary discussed in this post.
Assam Public Service Commission invites application from Indian Citizens as defined in Articles 5 to 8 of the Constitution of India for the under-mentioned posts under Assam Government in the scale of pay as indicated below and carrying usual allowances as admissible under Rules of the Govt. of Assam.
More Details of Advertisement and application procedures are discussed below.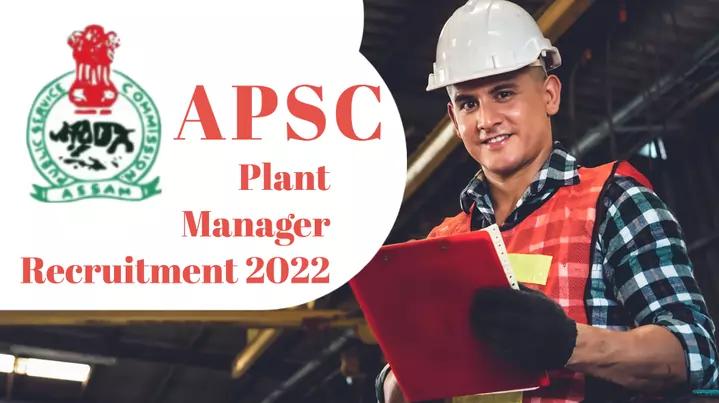 APSC Plant Manager recruitment 2022 | APSC recruitment 2022
| | |
| --- | --- |
| Advertisement No. | 12/2022 |
| Recruiter | Dairy Development Department, Assam |
| Council | Assam Public Service Commission |
| Adv. Date | 16.06.2022 |
| Application Starting Date | 18.06.2022 |
| Application End Date | 18.07.2022 |
| Essential Qualification | B. E., B. Tech. & M. Tech. |
| Job Location | Assam |
Posts Description:
Name of Posts:
Plant Manager and its equivalent Post viz. Chilling Plant Supervisor/ Milk Tester/ Asstt. Rural Dairy Extension Officer (ARDEO)/ Asstt. Distribution Officer (ADO) under Dairy Development Department, Assam. (Class-I Class-B Junior Grade)
No of Positions:
| | | | | | | |
| --- | --- | --- | --- | --- | --- | --- |
| UR | OBC/MOBC | SC | STP | STH | EWS | Total |
| 10 | 06 | 01 | 02 | 01 | 02 | 22 |
Recruiting Departments:
Dairy Development Department, Assam
Essential requirements:
Educational Qualification:
A Candidate must have a Bachelor's Degree in Dairy Technology from a recognized University/ Institution.
Age Limit:
The candidates should not be less than 21 years of age and not more than 38 years of age as on 01/01/2022.
The upper age limit is relaxable :

By 5 years for SC/ST candidates, i.e. upto 43 years.
By 3 years for OBC/MOBC candidates i.e. upto 41 years as per Govt. Notification No. ABP. 6/2016/9 dated Dispur the 25th April 2018.
Scale of Pay: –
Pay scale + Grade Pay + Other allowances as admissible to the Assam State Government employees from time to time (per month).

Pay scale – Rs. 30,000/- to 1,10,000/- Grade Pay – Rs. 12,000/- Pay band – PB- 4
Eligibility Criteria :-
The candidate must be a permanent resident of Assam. As a domicile proof of the candidate, he/she must upload PRC/ Voter ID Card/ Employment Exchange Registration Certificate of Assam.
FEE
Sl. No.
Category
Application Fee (Rs.)
Processing Fee
Charged by
CSC-SPV (Rs.)
Taxable amount
on processing fee
(@18%)
Total Amount
(Rs.)
1.
General/EWS
250
30
5.40
285.40
2.
SC/ST/OBC/MOBC
150
30
5.40
185.40
3.
BPL
Nil
30
5.40
35.40
4.
PWBD
Nil
30
5.40
35.40
HOW TO APPLY?
Applicants are required to apply online through APSC's recruitment website. No other means/ mode of application will be accepted and the Application will be summarily rejected.
Applicants who have not registered yet, in Online Recruitment Portal of APSC are first required to go to the APSC's recruitment website https://online.apscrecruitment.in and register themselves by clicking on 'Register Here' link and complete the One Time Registration(OTR) process by providing basic details.
CANDIDATES ARE ADVISED TO REGISTER WITH VALID AND ACTIVE E-MAIL ADDRESS IN THE ONLINE APPLICATION. INTERVIEW SCHEDULE AND REQUIREMENTS WITH REGARD TO COPIES OF CERTIFCATES TO BE SUBMITTED IN RESPECT OF CLAIMS MADE IN THE ONLINE APPLICATION, WILL BE INTIMATED TO THE CANDIDATES THROUGH THE WEBSITE OF THE COMMISSION IN DUE COURSE OF TIME.
After creating an account, applicants need to login with the credentials.
After login, applicants need to provide One Time Registration details such as Personal Information, Educational Qualification, Work Experience, Photo (Min size-20 KB & Max size-200 KB and not older than 3 months) & Signature (Min size-20 KB & Max size-200 KB) and other required documents. Once these details are submitted, applicants will be able to download the One Time Registration details. Then applicants can click on Home->Dashboard and see the live advertisements of APSC in 'Apply Section'. Please note that One Time Registration details need to be provided only once.
The applicants are advised to read the eligibility criteria and other relevant details carefully before applying for the advertisement. Mandatory fields in the online form are marked with * (asterisk) sign.
Applicant should carefully fill all the information as asked in the application form and click on the declarations checkbox to enable the 'Preview' button before final submission.
Applicants must ensure all relevant fields in the application are filled in correctly before final submission, since editing after final submission will not be allowed.
After previewing the details filled in by the applicant he/she can either click 'Submit' for final submission or click 'Cancel' button for necessary corrections before final submission of the Application Form.
On completion of form submission applicant has to pay application fee along with processing fee as applicable.
Application fee once paid by the applicant will not be refunded.
For any payment related issues, one can reach the following helpdesk numbers –
GRAS Helpline (Telephonic):1800-212-11-88-66 (From 10:00 AM to 6:00 PM on all
working days) GRAS Helpdesk- https://assamegras.gov.in/helpdesk/
Click 'Submit a ticket' Click 'Payment Related'
Fill-in your payment related details. Click 'Submit ticket'
APSC Important Links: